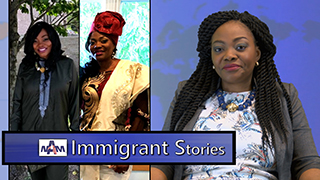 Karine Sokpoh -- the immigrant who came from Togo with limited English and today has found her voice as a lawyer. Karine Sokpoh remembers well when she arrived to the United States in 2001 at age 20. Even though she studied English for nine years in Togo, her native...
About Immigrant Stories
Everyone has a great life story. For us immigrants, the thread that connects all our stories together is the journey to the United States. We have a lot to share and Immigrant Stories does exactly that. 10 questions bring to you the challenge of becoming a naturalized American. Every newcomer has a great story, and all accents are beautiful. If you would like to participate please email us at stories@newamericansmedia.com. We would love to hear your story!