Two versions of the same salad, prepared by Pla and Joy, two sisters, chefs and restaurant owners in Omaha, Nebraska.
Borders are blurred when it comes to food and that is the case with papaya salad, which may or may not contain anchovy sauce, a staple of Indochinese cuisine, depending on where you are in the region. We bring to you two versions. Thai style papaya salad is known to be milder and less pungent than the Lao one, since it uses fish sauce instead of anchovy sauce. Ironically, the Thai style can also be prepared without Thai chili peppers, a must-have ingredient in the Lao version of the salad.
Pla and Joy are two sisters originally from Thailand.
Pla came to Shenandoah, Iowa as an exchange student in 1995, and then, she earned a master's degree from Bellevue University, in Bellevue, a suburban city in the Omaha area. In 2012, her sister Joy crossed the ocean on an internship. She was a baker for the Horseshoe Casino, in Council Bluffs, Iowa, just across the river from downtown Omaha.
The sisters partnered up and they now run two Thai and Lao restaurants in the area.
As guests of Spice and Recipe, Pla, who does not like anchovy sauce, volunteered to prepare the Thai style, while Joy, who loves the sauce and spicy food, had fun showcasing the Lao style. We hope you will decide to try the recipes at home. And if you do, please email us your thoughts at [email protected]. You can also check other episodes of Spice and Recipe by clicking here, or by subscribing to our YouTube channel here. 
Spice & Recipe: The Origins of Flavor is a weekly show that you can watch locally in Omaha, Nebraska on KPAO-TV, Cox 1022 or Century Link 89, and worldwide on the NAM YouTube channel or this website.
---
RECIPE: PAPAYA SALAD | LAO STYLE
SPICE: ANCHOVY SAUCE 
SERVING SIZE: 4
Ingredients: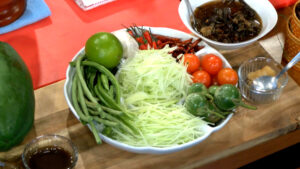 40 oz shredded young papaya (green papaya)
4 oz coriander
15 cherry tomatoes, halved
6 Thai eggplants, sliced
8 salted small crabs and about 1/4 cup of crab juice
4 garlic cloves
4 tablespoons palm sugar
4 or to taste tablespoons anchovy sauce
6 or more Thai chili peppers
juice and the fruit of three fresh limes
RECIPE: PAPAYA SALAD | THAI STYLE
SERVING SIZE: 4
Ingredients: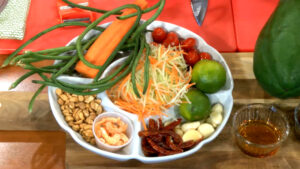 20 oz shredded young papaya (green papaya)
20 oz shredded carrots
4 oz long green beans, cut into one-inch pieces
20 cherry tomatoes, halved
4 oz dried shrimp
4 garlic cloves
3 – 4 tablespoons palm sugar
2 – 3 tablespoons fish sauce
juice and the fruit of three fresh limes
4 oz peanuts
4 or more Thai chili peppers (optional)
Preparation for both salads:
The process is almost similar for both salads. Use a big mortar and pestle if available or a big mixing bowl. You may prepare one serving at a time. Start by crushing garlic and palm sugar for the Thai version, and garlic and chilis for the Lao version until finely minced. Add ingredients one at a time – papaya and carrots are the last ingredients to be added. Make sure to continuously mix and cruch the ingredients as they go in.
Add papaya and carrots; mix very well. Taste and add fish or anchovy sauce and chili to your liking. Serve with sticky rice for the Lao style, or rice noodles for Thai, as well as lettuce, and boiled eggs.
ENJOY!  
---
Connect with us:
Website: https://newamericansmedia.com/
YouTube: https://www.youtube.com/c/NewAmericansMedia
Facebook: https://www.facebook.com/New-Americans-Media-2162656677082125/
Twitter: https://twitter.com/NewComersMedia
Instagram: https://www.instagram.com/newamericansmedia/
LinkedIn: https://www.linkedin.com/company/new-americans-media/