What is USCIS and tips on how to navigate the USCIS website. 
▌  Overview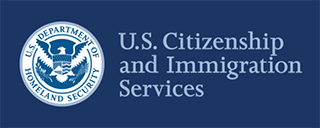 U.S. Citizenship and Immigration Services is the branch of the federal government that handles just about everything pertaining to legal immigration and citizenship in the United States.
The USCIS is huge, with a workforce of 19,000 federal employees and contractors working at more than 200 offices. International field offices are in Guatemala, India, Mexico, El Salvador, Kenya, and  two offices in China.
Its workload is just as huge. The USCIS processes more than 8 million immigration and naturalization benefit requests each year. On an average day, the USCIS will make a judgment on 30,000 applications, grant asylum to 100 individuals, and welcome 3,195 people as new U.S. citizens at naturalization ceremonies.
Many applications to the USCIS come from individuals wishing to become U.S. citizens, bring family to the United States to live and work, or adopt children from other countries. Others are seeking temporary visas for work, study, business, recreation, and cultural exchange.
Among its other responsibilities, the USCIS extends protections to refugees overseas. It administers the E-Verify program, an online tool used by businesses to ensure their new employees are eligible to work in the United States. And it determines whether individuals or organizations requesting benefits pose a threat to national security and public safety.
The USCIS can trace its roots back 129 years when Congress created the Office of Immigration within the U.S. Treasury Department. During the Great Depression, President Franklin D. Roosevelt consolidated all federal immigration services into the Immigration and Naturalization Service, or INS, which oversaw the immigration processing, enforcement, and border patrol activities for 70 years.
Following the September 11th terrorist attacks, Congress passed the Homeland Security Act of 2002, creating the Department of Homeland Security to protect the nation against any threats. At that time, the responsibilities of the INS were shifted to Homeland Security and divided among three new branches; Immigration and Customs Enforcement (ICE) and Customs and Border Protection (CBP) took charge of immigration enforcement and border security, while USCIS focused on immigration applications.
The USCIS has rich information on its website. Here is a list of helpful tips on how to navigate the site and use available tools.
▌  3 Ways to Get Help from USCIS
You have many ways to get information about immigration services and ask questions about a pending case. Here are 3:
Sign up for a USCIS online account to access personalized, real-time information about individual cases from your computer, cell phone, or tablet.  You can track the status of your case. It gives you the same information as you would get from speaking to a representative, and it is available  immediately, any time of day. Use your online account to ask questions about your case, including if your case is outside normal processing times, or you did not receive your card or notice in the mail, or your card or document has a mistake.
Visit uscis.gov and use Ask Emma to find answers to common questions about the application process.
If you need to talk to a representative for another reason, you can call the USCIS Contact Center at 800-375-5283 to access automated information through an interactive menu 24 hours a day, seven days a week. You can get live help in English and Spanish from a USCIS representative Monday through Friday from 8 a.m. to 8 p.m. Eastern.
▌  4 Easy Ways to Keep Up with Immigration Information from USCIS
▌  5 Most Popular USCIS Immigration Forms and What You Need to Know About Them
U.S. Citizenship and Immigration Services (USCIS) oversees the legal immigration system in the U.S. and adjudicates applications and petitions for immigration benefits. You can find information about all our forms here.
▌  5 Popular Topics Searched on USCIS and Where You Can Find More Information
▌  4 Things Employers Can Do for Free to Help Verify Work Authorization
Federal law requires that every employer who recruits, refers for a fee, or hires an individual for employment in the U.S. must complete Form I-9, Employment Eligibility Verification. Form I-9 will help you verify your employee's identity and employment authorization.
▌  5 Things You Need to Know Before Coming to Your Biometrics Appointment with USCIS
After you file your application, petition, or request, if you need to provide your fingerprints, photograph, and/or signature USCIS will schedule your biometric services appointment at a local application support center (ASC). The biometrics you provide during your ASC appointment allow us to confirm your identity and run required background and security checks.
Your attorney or an accredited representative does not need to go with you to the ASC.
Your notice will provide specific instructions on what you should bring to your ASC appointment. You must bring your ASC appointment notice and a valid photo ID like your green card, passport, or driver's license.
We will capture your fingerprints, photograph, and signature with machines designed to collect these biometrics. When you provide your digital signature, you are attesting that the information you provided in your application or petition was complete, true, and correct. Children under 14 do not have to sign, but they can if they are capable of doing so or a parent may sign on their behalf.
USCIS cannot change your name or other personal information during your ASC appointment. It was generated based on the information you provided on your application, petition, or request.
If you do not understand spoken English, you should bring someone with you who can translate for you such as a family member, attorney, or accredited representative.
You can find more information about the ASC and biometrics process here.
▌  3 Helpful Tools from USCIS to Use When You're Looking for a Job or Just Got Hired
If you are a job seeker, anyone in the U.S. aged 16 years or older can use Self Check to confirm his or her employment eligibility. It's free and easy.
Visit the "My Resources" section of uscis.gov/mye-verify to learn more about employee rights to become educated and empowered about discrimination and unfair treatment by an employer.
Visit I-9 Central on uscis.gov to learn more about Form I-9, which you will be required to complete when hired for a new job to verify your employment eligibility. There are form instructions in both English and Spanish and helpful videos.
▌  5 Free Tools to Help You Navigate The Immigration Process
▌  The Top 3 Reasons Immigration Forms Are Rejected by USCIS
Incorrect fees. By far, this is the most common reason applications are rejected. Recommendation: use the fee calculator at uscis.gov to accurately calculate the fee owed for specific applications and petitions. If the application you are filing is available for online filing, it will calculate the fee owed.
Required fields are missing. Forms must be filled out entirely. Double check before submitting. If you are filing online, the online filing system will ensure all required fields are completed before you can submit it.
Not signed: Don't forget to sign your form! We will reject and return any unsigned form. Recommendation: Double check before submitting. If you file online, you will electronically sign it, and it cannot be submitted until it is signed.
Find more form filing tips here. Here's a video about filing online.
▌  7 Ways to Work with USCIS during The COVID-19 Crisis
These are the 7 things you need to know if:
You are ready to apply for an immigration benefit — many USCIS forms including those to apply to naturalize, replace your green card, or petition for a family member's green card are available online.  All other forms are mailed in to USCIS lockbox locations. You do not need to come to a USCIS office to apply for most immigration benefits – including applying for a green card, replacing a green card, or applying to naturalize. 
You have an appointment and you feel sick — follow the instructions on your appointment notice to reschedule your appointment. There is no penalty if you reschedule your appointment. Please do not visit a USCIS office if you are sick or start to feel symptoms of being sick.
You have an appointment and you want to make sure your USCIS office is open — Any time you want to check on the operating status of your local office, please visit our office closings webpage.
You have specific case question — Create an online account. Creating a free online account with USCIS allows you to file online, track your case, submit documents, and ask questions about your case.
You have more general immigration questions — Ask Emma, a computer-generated virtual assistant who can answer your immigration questions and take you to the right spot on uscis.gov for more information.
You need to provide additional evidence to support your case — Use your online account to monitor the status of your case. If you receive a Request for Evidence (RFE), you will upload the additional evidence requested just as you uploaded materials for your application.
You want to know if you may qualify for immigration benefits — Explore your options. Answer a few questions so that uscis.gov can present you with immigration options for which you might be eligible.
---
Connect with us:
Website: https://newamericansmedia.com/
YouTube: https://www.youtube.com/c/NewAmericansMedia
Facebook: https://www.facebook.com/New-Americans-Media-2162656677082125/
Twitter: https://twitter.com/NewComersMedia
Instagram: https://www.instagram.com/newamericansmedia/
LinkedIn: https://www.linkedin.com/company/new-americans-media/