A new social media initiative will help you get answers for many questions regarding citizenship and immigration benefits.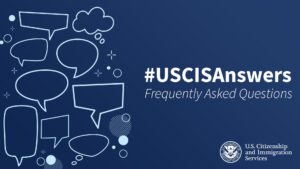 The USCIS has launched a new Twitter series compiling the most common questions asked by applicants and immigrants. Look for #USCISAnswers on Twitter to find answers to such questions as:   
How can I find out what's happening with my application?

I lost my g

reen card. What should I do?

I am an American citizen. How do I bring a family member from another country to live here?
The Twitter series is the latest attempt by USCIS to reach out and assist applicants using social media. The initiative began in January, compiling questions and answers received through USCIS's Contact Center and "Emma," the computer-generated customer service search tool found on the USCIS's website as well as agency's social media accounts, Twitter, Instagram, YouTube, Facebook and LinkedIn.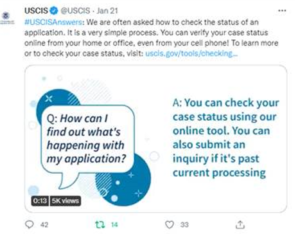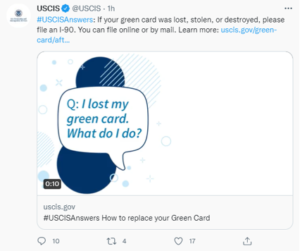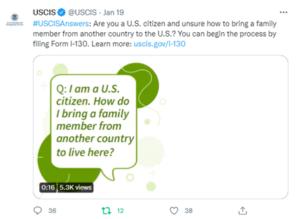 In addition, a new app will help you study for the civics portion of the naturalization test anytime and anywhere.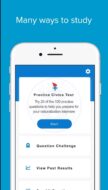 Download the Civics Test Study Tools app to your device through iTunes or the Google Play store.The U.S. Citizenship and Immigration Services created the app to help applicants memorize questions and answers that will be on the test.
In an effort to make it easy for immigrants to apply for citizenship, USCIS also posted a video on YouTube that provides in-depth instructions on how to file online the Application for Naturalization (Form N-400).  
Haji Weliyo of Omaha, Nebraska, featured in the video, used some of the above-mentioned tools to prepare for his citizenship test. Weliyo became a naturalized American citizen on February 11, 2022.
*****************************
USCIS introduces a new mission statement.
The words "welcome" and "respect" have been added to the new mission statement of the U.S. Citizenship and Immigration Services, illustrating a different approach to immigration by the Biden administration.
The new mission statement reads: "USCIS upholds America's promise as a nation of welcome and possibility with fairness, integrity, and respect for all we serve."
"USCIS is committed to ensuring that the immigration system we administer is accessible and humane," said USCIS Director Ur Jaddou. "As we look towards the future, my commitment will remain the same – USCIS will continue to serve the public with respect and fairness, and lead with integrity to reflect America's promise as a nation of welcome and possibility today and for generations to come." 
This approach contrasts with the Trump Administration's hardline philosophy toward immigrants and people seeking citizenship.
During the Trump era, the phrase "nation of immigrants" was removed and the mission statement was rewritten to include phrases such as "securing the homeland" and "safeguarding its integrity," according to CNN.
The former mission statement read: "U.S. Citizenship and Immigration Services administers the nation's lawful immigration system, safeguarding its integrity and promise by efficiently and fairly adjudicating requests for immigration benefits while protecting Americans, securing the homeland, and honoring our values,"
León Rodríguez, who served as USCIS director under President Barack Obama, wrote in a Washington Post editorial in 2018, "Regardless of the Trump administration's rhetoric, we are, always have been and, I am optimistic enough to say even in these times, always will be a 'nation of immigrants.'"
Jaddou, in announcing the new mission statement, said, "The United States is and will remain a welcoming nation that embraces people from across the world." 
She added, "At its core, USCIS is about delivering decisions to families, businesses, workers, and those seeking refuge in our country on their applications, petitions, requests, and appeals. This new mission statement reflects the inclusive character of both our country and this agency."
"The work of USCIS makes the possibility of America a reality for immigrants, the communities and economies they join, and the nation as a whole," Jaddou said. "At USCIS, we know that every time we grant an immigration or naturalization benefit, we are fostering the opportunity to help us build a stronger America. And when we offer refuge to those in need of protection we are living up to our nation's highest ideals." 
---
Connect with us:
Website: https://newamericansmedia.com/
YouTube: https://www.youtube.com/c/NewAmericansMedia
Facebook: https://www.facebook.com/New-Americans-Media-2162656677082125/
Twitter: https://twitter.com/NewComersMedia
Instagram: https://www.instagram.com/newamericansmedia/