The U.S. State Department has a backlog of about 1.6 million passport applications.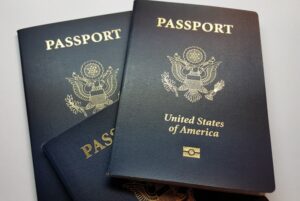 The U.S. State Department's decision to stop processing passport applications and renewals is coming under fire by seven Republican U.S. senators.
About 1.6 million applications are sitting untouched in offices vacated on March 19 by the State Department in reaction to COVID-19 health concerns. That backlog continues to grow as an average 9,000 new applications are submitted each day.
In a letter to Secretary of State Michael Pompeo, the senators said there is no reason to stop passport processing because the federal government is not in a state of shutdown and employees have not been furloughed. In fact, Congress has passed several funding packages to equip the State Department with alternative technology and systems to keep operating during the pandemic.
"This is unacceptable," the senators wrote about the backlog, "and we urge you to reexamine this policy."
The June 3rd letter is signed by senators James Lankford of Oklahoma, John Cornyn of Texas, Kevin Cramer of North Dakota, John Boozman of Arkansas, Mitt Romney of Utah, and David Perdue and Kelly Loeffler, both of Georgia.
The State Department is not saying when it will restart processing passport applications. But it does say in a press release that when offices do reopen, it will be a gradual process and follow guidelines provided by the U.S. Centers for Disease Control and Prevention. 
"We are continuously evaluating conditions at each of our locations and will resume operations in accordance with public health data for that region and with local government response measures," the State Department said. "We are working to resume normal operations in phases. Each passport agency and center will open on a different date based on local conditions."
When processing resumes, the State Department said it will reopen with limited staff, working on applications it has already received. The oldest applications will receive first priority. Then they will continue to ramp up processing by reopening other offices.
As the State Department addresses the passport backlog, it recommends that customers wait to submit new or renewal applications because they will encounter lengthy delays.
While the processing of routine applications and renewals are on hold, the department has continued throughout the pandemic to process passports for life-or-death situations.
The senators said the State Department's current policy is causing hardships for Americans.
"We have heard from constituents who submitted applications in the months prior to March 19, whose files were not completed prior to the suspension of operations and are therefore, still pending after months of waiting," the letter said.
The usual wait time on a passport is six to eight weeks. Currently, the State Department's estimated time to receive a passport is "several months."
"Many Americans are frustrated that their passports have expired during the pandemic due to the Department's suspension and delays," the senators said. "As our nation moves toward reopening in the coming months, more Americans will submit applications, and they will also experience delays due to the backlog of applications from earlier in the year. … Since the taxpayers have paid for this Department to be fully operational, they are right to expect their requests to be processed in a timely and professional fashion."
Right now many countries are still closed to international travel, but many of those restrictions are expected to be lifted later this year, the senators said. When that happens, people will still not be able to travel because of "the Department of State's slow and insufficient policy to process passports," they said.
"We hope you will take steps to correct and improve this plan to ensure the Department is not partially responsible for stifling international commerce at a time when our nation is eager to resume economic activity," the senators said.
_______________________
For more information:
The U.S. Customs and Border Protection website for documents and alternatives to U.S. passport books: https://www.cbp.gov/travel/us-citizens/western-hemisphere-travel-initiative
The U.S. State Department website for operating updates: travel.state.gov
Check the status of your passport application online: passportstatus.state.gov 
Information on how to apply for a passport at: https://travel.state.gov/content/travel/en/passports/how-apply/forms.html
To make an appointment for an emergency passport at one of the nearest 26 passport agencies or centers, call the National Passport Information Center at 1-877-487-2778 (1-888-874-7793 TDD/TTY) on Monday through Friday, 8 a.m. to 5 p.m. Eastern Time, except federal holidays. Call 202-647-4000 outside of these hours to make an appointment.